Blog--Our Two Cents from Twin Creek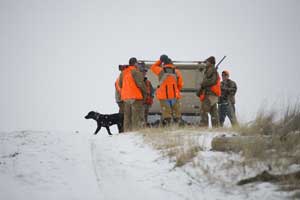 Prairie Dog Madness
Twin Creek Ranch hosted two very special groups of prairie dog hunters during the last week of June. Our first group for the year was sponsored by Smith and Wesson with Robbie Robbins in attendance. During the two days of shooting this great group of guys put plenty of rounds down range at prairie varmints with their Thompson Center tricked out guns.
Our second group was sponsored by Browning, Winchester and Bushnell Optics and included some heavy hitters in the outdoor writing world. These included Wayne Van Zwoll, John Haviland and Ron Spoomer. These guys can more than write about it they can shoot. The longes recorded hit was well over 600 yards documented wit hthe new Bushnell range finding bino. If you are needing a pair of laser range finding binos give these a serious look. They really impressed all of us. Good shooting, lots of targets from 100-700 yards What a place!
Spring Birds
A healthy population of all of Hungarian Partridge, Sharp tailed Grouse and Pheasants is what makes Twin Creek great and we are committed to seeing our feathered friends through the winter. Wild game birds can easily sustain during the worst weather if three key components are close at hand. Cover, available feed and grit to help digest the feed. Here we leave miles after miles of native grasslands intact. We even plant and irrigate areas to produce extremely thick snow resilient cover for wither survival. This winter holding cover is strategically planted next to feeding and grain fields. This makes it easy for the birds to "hole up" when ole man winter shakes his fist at the ranch.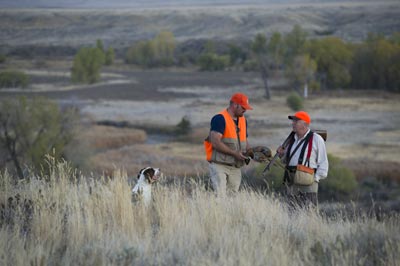 As we harvest grain, alfalfa and barley there is always a few rows on the outside of each field to cover for the birds winter feed.

Another problem with hard crusted snow and ice on the fields and roads is that pheasants cannot get to the grit they need to process the food they are getting.

Each week we have taken a scraping blade and worked up the edges of the local roads to expose the small rocks that serve as grit for pheasants and other game birds.

It is amazing, one hour after running the scraper down the road the roadside is lined with birds picking up the much needed gravel.

Although these steps may sound labor and machinery extensive as well as financially costly with the price of diesel at over $3.50 we have a profound commitment to provide the healthiest completely wild bird population in the west.